Facebook, especially Facebook for business, is constantly reinventing itself. Staying up-to-date can drive a page administrator to drink. The Facebook tech gremlins media company — who most people refer to as "they" — added some essential changes in late 2013. Now, they are about to present a total redesign of their Facebook for Business pages. Don't get left behind! Catch up with the changes you've missed in the past few months, and prepare for the new look Facebook Business Page look for 2014.
1. A Streamlined Timeline
The right-side column of your timeline will display your posts.  The left side will feature the details of your business, including a map, address, phone  information about your business, including a map, hours of operation, URL, photos and videos. In the past, people has to click through to your "About" page before they could receive this information.

2. Wider Posting Column
Page posts will expand to 511 pixels wide, instead of the previous 403 pixel limit.  Use the added real estate to feature bigger, engaging photos with your posts.
3. Wider Cover Photo
The new Facebook Business Page design also allows a larger cover photo. David Coleman of Have Camera Will Travel notes:
The cover photo is the large panoramic image space at the top of the timeline. It's displayed at 851px wide by 315px high. The image you upload must be at least 399 pixels wide–one that's at least 720 pixels wide will work best.
4. User-Friendly Admin Tools
No more searching for your recent activity and insights. You'll find them at the top of your Facebook business page, along with a link to the build audience tool. 
5. This Week
The new Facebook for Business page design also features a "This Week" section. No matter where you are on your page, you'll be able to see information about your ads, new likes, post reach and unread notifications and messages.
6. Pages to Watch
The Pages to Watch app lets you create a list of pages similar to your own, and compare your performance.
7. Ranking Algorithm Changes
Facebook states the the goal of their news-feed  is to deliver the "right content to the right people at the right time." In December, 2013, they announced that they were changing their ranking algorithm.
Why are we doing this? Our surveys show that on average people prefer links to high quality articles about current events, their favorite sports team or shared interests, to the latest meme.
This means that your readers' news-feeds will soon display fewer cutesy memes and more links to the latest news articles. Although this applies to all of Facebook, it's especially important to business owners. "New Age" type businesses and female-oriented companies have a tendency to fill their daily feeds with pretty pictures and inspiring quotes. These "fluff posts" will gradually disappear from potential client's news-feeds. Stick to informative news stories, directly or indirectly related to your business.
8. Post Scheduling Tool
In the past, scheduling a Facebook post involved using a drop-down menu to select the day, month, hour and minute. The new changes let you select a date and time on a calendar. You will then receive a notification that your post has been scheduled.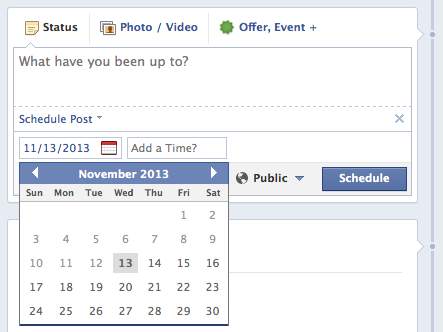 9. Notifications of Shared Posts
They like me! They really like me! Hopefully, your friends and followers like you enough to share your Facebook Business page posts with their friends. In the past, all you could do was hope. In case you haven't noticed, a few months ago, Facebook started adding notifications about public shares of your words of wisdom. This is extremely important for business owners, because it tells you what people consider share-worthy.
10. Get on the Wait List
The new Facebook for Business page layout will not happen "automagically," as we say in the business. AllFacebook  tells us the page administrators will soon receive an invitation that reads "Coming soon: a new layout for Facebook pages. Add your page to the wait list to try it out."

The message will appear on your cover photo, and will look like this:

Have you received your invitation? What do you think of the new layout? WE'd love to hear your thoughts!
Suggested Read on this Topic: