This Monday, renowned tech-giant Microsoft unveiled its most anticipated smartphones of the year, the Lumia 950 and 950 XL. Running Windows 10 mobile, the new beauties from Microsoft flaunt a mind-boggling set of features at an impeccable price bracket. Lumia 950 XL features an Octa-core chipset and a bigger display, while its younger sibling packs a hexa-core processor with a smaller yet sharper display. They both feature 32GB of built-in storage, and ship at a tempting 'best buy' prices of Rs. 49,399 and Rs. 43,699 respectively.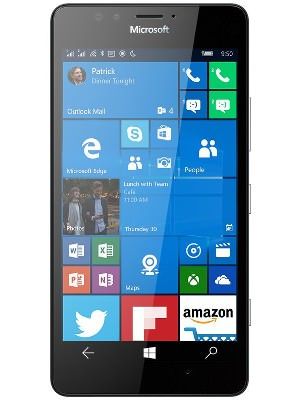 So the question is, what's new in the latest Lumia flagships? We all know Windows 10 Mobile promises a better ecosystem for nonstop work and play, and packs immense power for seamless performance. But despite a major OS upgrade, Microsoft sells some really interesting features that make Lumia 950 better than others. Let's check out what are these features:
Mesmerizing display
Microsoft has equipped Lumia 950 with a beautiful 5.2 quad-HD AMOLED display. The device features a clear back display protected by Gorilla Glass 3, and gives an impeccable viewing experience with 564 pixels per square inch. It makes a strong impression over the likes of Galaxy S6 and LG G4, and delivers sharp and true-to-life images with perfect viewing angles. The daylight output of this display is also very impressive, and till now, only a few smartphone makers have managed to offer a better package than this one!
Windows 10 Continuum
The most impressive feature for on-the-go users, Windows 10 Continuum, transforms Lumia 950 into a full-fledged mini-computer. By using Microsoft's Display Dock, Lumia 950 can be hooked up to a desktop, mouse, and keyboard, and can give a complete PC-like experience. The mobile interface of the OS transforms into a PC-like UI with Start Menu, and native Windows app scale up to give the same look of Windows 10 PC apps.
Windows Hello
After seeing a lot of passwords and fingerprint scanners, Microsoft has finally introduced its state-of-art Windows Hello technology for smart and seamless unlocking. This feature pairs up with Iris scanner and unlocks Lumia 950/950 XL just by identifying the user from his eyes. It eliminates the dubious requirement of typing login credentials, and makes the Lumia 950 securer than all high-end smartphone, Android, iOS, or even BlackBerry OS.
Impeccable camera Performance
Moving the flow, Microsoft has unwrapped some major camera improvements in its new flagships. This year, the company has introduced Lumia 950 with a 20-megapixel PureView rear camera with Carl Zesis optics, and a 5-megapixel front-facing shooter with wide angle lens. The device promises bright and sharp images with optical image stabilization and triple LED RGB flash modules, and makes one of the strongest camera packages to take on the likes of Galaxy S6 and iPhone 6S. It can also capture and play 4k videos without any lags or glitches.
Windows 10 Mobile OS
Microsoft Lumia 950 is one of the first smartphones to run Windows 10 Mobile right out-of-the box. Just like the Desktop version, the highly-anticipated Windows 10 Mobile Microsoft promises a well-synchronized Windows ecosystem, just like Apple. The upgraded OS packs a better look and feel, and brings a plethora of new features such as, Continuum, improved Cortana integration, and Windows Hello. It also brings a bunch of noticeable changes in Camera, Messaging, Photos, OneDrive, People, and Office Mobile.
Upgraded Storage
Sufficient built-in storage and an additional option for expandability makes Lumia 950 one of the most favored choices in the high-end segment. Unlike the iPhones or the Galaxys, Microsoft equips Lumia 950 with 32GB built-in-memory, and allows its users to expand storage up to a whopping 200GB without spending a huge fortune. On other smartphones, you'd have to spend more than Rs. 60,000 for a standard 64 or 128 gig variant, while here, all you need do is just pop-in a microSD card.
Advanced USB Type-C connectivity
Along with enhanced storage, Lumia 950 also endows USB Type-C reversible connectivity with fast charging. This is the first Lumia smartphone with USB Type-C standard, but in last few months, we've seen a lot of USB Type-C, starting from OnePlus 2. This feature allows you to plug-in the data cable from both ends, and charges Lumia 950 from 0 to 50% in just 30 minutes. Since Microsoft is using the latest USB 3.1, the transfer rates are better on this handset.
Enhanced Battery Capabilities
This year, Microsoft has equipped the new Lumia 950 with a humongous 3000 mAh removable battery. Unlike most flagships, the battery equipped with Lumia 950 can be replaced with a new one whenever required. It offers sufficient juice for work and play, and with added fast-changing technology, it easily gives you more than one day usage even on heavy usage.
To be exact, Lumia 950 offers 23 and 18 hours of talk time on 2G and 3G, and allows you to play more games, surf on the internet, and stream videos without any snags, glitches, or unexpected thermal issues.
So, all these features make Microsoft Lumia 950 one of the most anticipated smartphones of 2015. The Windows ecosystem has undoubtedly improved a lot, and with features like Windows 10 Continuum and Windows Hello, the power-packed device would definitely leave a strong impression over the likes of Galaxy S6, LG G4 and iPhone 6S. According to Microsoft, Microsoft Lumia 950 will hit the shelves in India from December 11, and will be available via online as well as offline channels. The pre-booking for the handset are currently open, and the Microsoft Display Dock, which has been launched at a price tag of Rs. 5,999, will also be bundled free with both phones until stocks lasts.
Lumia 950 packs dual SIM connectivity, measures at 151.9×78.4×8.1mm and weighs around 165 grams on paper. It replaces native fingerprint sensor with an Iris scanner and includes ambient light sensor, Accelerometer, Barometer, Proximity sensor, Gyroscope, and Magnetometer.