The world of poker is perhaps the most eclectic, diverse group of individuals of any sport or activity. The following 10 Twitter accounts will entertain as well as inform:
1. Daniel Negreanu @RealKidPoker – With tournament winnings of almost $30 million, Daniel Negreanu sits atop the poker tournament all-time money winner leader board. He is also considered to be one of the nicest people in poker. His tweets are filled with his often outspoken opinions about poker, his love of hockey and his attempts to get an NHL Team in Las Vegas, and advocacy for a vegan lifestyle. He also shares his insights into popular television programs which, judging from his tweets, he usually binge watches.
Global Warming, fascinating and scary capture of a massive calving: http://t.co/ME0RjVfOGR

— Daniel Negreanu (@RealKidPoker) March 7, 2015
2. Phil Hellmuth @phil_hellmuth – Thirteen-time WSOP bracelet winner Hellmuth is one of the more polarizing characters in poker. The self-proclaimed "Poker Brat" and "best player in the world," Hellmuth fills his tweets with sporadic rants and offers a course in self-promotion and name-dropping. While you want get a great deal of insight into poker, or anything else for that matter, his tweets are highly entertaining, especially during major tournaments.
I really enjoyed chillinfor a few hours w the all-time greatest Olympian @MichaelPhelps. 18 Gold Medals! #GoodGuy #MoreGoldsOnTheWay — phil_hellmuth(@phil_hellmuth) March 9, 2015 In @SacramentoKings locker room post game, @boogiecousins told me, "I'll whip your ass at Tonk(card game)! @RudyGay8 wasn't ready for me — phil_hellmuth(@phil_hellmuth) March 4, 20153. Joe Stapleton @Stapes – In the poker world, Stapleton is known more for his role as the color commentator for European Poker Tour Events and Full Tilt's UKIPT broadcasts. Stapleton has the uncanny ability to provide entertain and insightful commentary for events that have sometimes last over twelve hours. Just imagine what he can do with just 140 characters.
Even if this whole dress debate unlocked some key to human understanding, over half the world will choose not to believe it in anyway.

— Joe Stapleton (@Stapes) February 27, 2015
4. Doyle Brunson @TexDolly – Doyle Brunson is perhaps the most famous and most respected poker player in the world. Brunson was one of the original road players who traveled throughout Texas playing the game. At 82, he is probably the oldest high stakes player in the game. His feed includes his picks for the best movies of all time (they are all westerns), good-natured ribbing of fellow players, some comments on the states of poker today and the occasional blonde joke. Followers can also follow his sports commentary and his sports bets, which seem to never go well.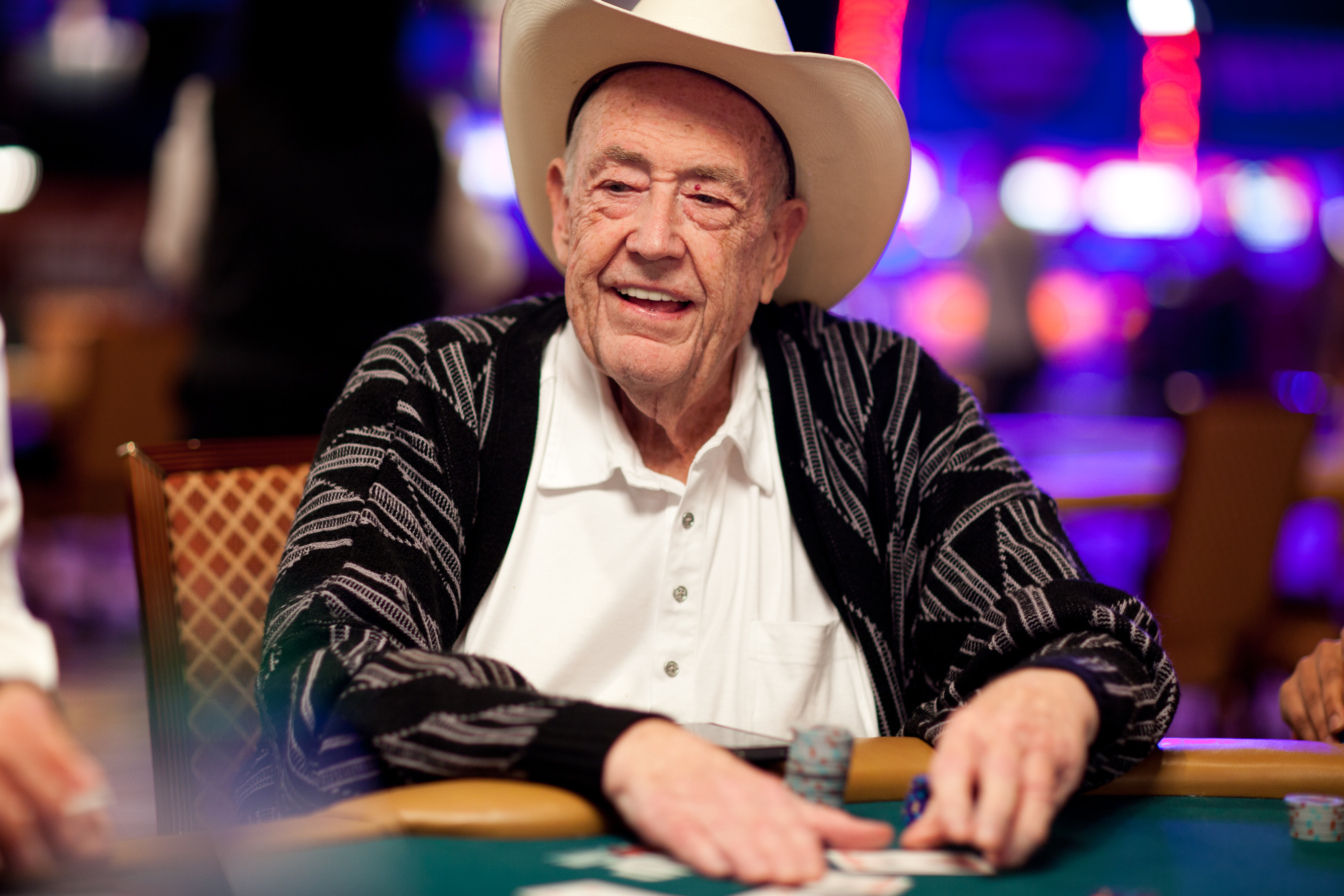 Cute little Asian girl came up to me, kissed me and said "my brother and I paid our student loans off following your Super/System".#RNandDr — Doyle Brunson (@TexDolly) February 11, 2015
5. Liv Boeree @Liv_Boeree – Nowhere else will you find commentary on such diverse topics as science, heavy metal, Burning Man, politics and poker as you will by following the heavy metal guitar playing, poker champion, and astrophysics degree holder Liv Boeree. As an added bonus, Boeree posts a lot of pictures, which frequently feature her.
Extremely excited about the @burningman Equinox party tonight!!!! pic.twitter.com/5bkww4tSFR

— Liv Boeree (@Liv_Boeree) March 7, 2015
Today is a big deal.. it is Global #divestment day. It concerns you. Read here about how to do your part: http://t.co/g4IxWFLGbR #FossilFree — Liv Boeree (@Liv_Boeree) February 14, 2015
6. Vanessa Selbst @VanessaSelbst – At one point, Selbst was described as one of the "best female" poker players in the world. Now most people just consider her one of the best poker players in the world, regardless of gender. The Yale law school graduate tweets more pure poker info than many of the players on this list, but they are invaluable for those looking to improve their poker game.
Survey: Best use of next 30 minutes 1) study 2) think of funny tweets abtstudying,thenmash refresh on notifications for self-gratification
— Vanessa Selbst(@VanessaSelbst) January 20, 2015
7. Erik Seidel @Erik_Seidel – Seidel is another of the "old school" poker players and belongs to the generation between Brunson and Negreanu. Seidel's tweets are filled with his rather eclectic observations and recommendations of music, theatre and culture. He tweets often provide a textbook example of dry wit. New obsession @MusicLapsley https://t.co/3l8ghC8jDw Can't wait to hear more from her — Erik Seidel (@Erik_Seidel) March 9, 2015
Artist extraordinaire Jonas Wood captured this perfect moment w the dog & painting pic.twitter.com/8Wsy6fJdMD

— Erik Seidel (@Erik_Seidel) February 28, 2015
8. Kara Scott @KaraOTR – Kara Scott is one of the more interesting poker personalities in poker. The commentator and player is part "gypsy," part geek, and part social activist. Her tweets cover the spectrum from learning new languages, shopping, Lego building, learning new poker games, and travel. Her tweets are informative, thought provoking and entertaining.
This is me learning just how many verb tenses there are in Italian. pic.twitter.com/9IME0v2p4j — Kara Scott (@KaraOTR) January 22, 2015
It's International Women's Day – a good time to remember there's still a wage gap (which is much worse for WOC & terrible for trans women).

— Kara Scott (@KaraOTR) March 8, 2015
9. Jack Effel @WSOPTD – Effel is the Tournament director for the WSOP, so most of his tweets are poker related. For those that enjoy poker and follow the WSOP, his tweets are a must.
We are all about elevating the game of poker, and attracting new players to @wsop. Don't you guys like seeing new faces around the tables? — Jack Effel (@WSOPTD) December 26, 2014
10. Kim Shannon @kimshannon – Every twitter feed needs something that makes you laugh. Kim Shannon is a poker player and writer. She describes herself as an "F-Bomb dropping poker player. Dog lover/reformed kid hater. (She's a new mother.) Writer/humourist. Followed by @TexDolly. Perpetually manic & giving sleep the finger" which does mean that a lot of her tweets are NSFW and definitely not for those that are uptight or prudish. The links to her blog posts will take you to some of the best written and most humorous looks at life and relationships you'll find on the web.
The first rule of Narcissist Club is you do not talk about anything but Narcissist Club. Ever.

— Kim Shannon (@kimshannon) March 2, 2015
My beloved Patriots prove once again that they're just like me… Superior in the art of playing with balls. — Kim Shannon (@kimshannon) February 2, 2015