Conspiracy Theories that Went Viral on the Internet
Social media provides an effective vehicle of growing your business, but only if you win the trust and respect of those who visit your networks. As such, overly personal information, as well rants about race, religion and politics, should never appear on your business social media pages. Social media Influencers gain respect by providing helpful information, but some folks have a weird idea of what constitutes "helpful."
Consider this: Not everything you read online is necessarily true or helpful. In fact, a host of wacky conspiracy theories have gone viral on the world wide web. Link to them at the risk of your professional reputation.
1. The Vaccination Conspiracy
When environmental defender  Robert F. Kennedy JR. talks, people listen. Unfortunately, RFK Jr. has a tendency to promote wacky medical theories, such as the disproved link between vaccinations and autism.  Kennedy argues that government scientists, conspiring with the vaccine industry, have lied about vaccine ingredients, in order to conceal the problem. An article in C2C journal explains how these conspiracy theories go viral. The author writes:
The Internet has turbocharged the spread of such conspiracy theories by permitting their propagandists to create blogs — complete with high-quality video propaganda – that speak directly to patients stricken with specific health conditions… The myth that vaccines cause autism permits emotionally vulnerable parents to blame politically accountable, human evildoers – the big pharmaceutical companies and their apologists at the Food and Drug Administration.
Case in point: An article published on Slate notes that Jenny McCarthy, the former Playboy Bunny who is one of the faces of the anti-vaccination movement, tells 500,000 Twitter followers that she gets her information from "the university of Google." In contrast, world-famous scientist Richard Dawkins has only 300,000 followers.
2. The Protocols of the Elders of Zion
In his book titled Voodoo Histories: The Role of Conspiracy Theory in Shaping Modern History, David Aaronovitch writes:
 conspiracy theories—bogus sinister, secretive plots against society or famous people—have not been produced by the downtrodden, uneducated, and ignorant. Quite the contrary; most "originate and are largely circulated among the educated and the middle class.
Nothing illustrates this better than one of the ugliest conspiracy theories, The Protocols of the Elders of Zion.  This 80-page document describes an alleged Jewish plot to take over the globe. Goedsche, a German novelist and anti-Semite composed the doctrine under the pseudonym of Sir John Retcliffe. He plagiarized the plot from another author, Maurice Joly, whose Dialogues in Hell Between Machiavelli and Montesquieu involved a diabolical plot to oppose Napoleon III.
3. The Reptilian Elite
Why did it have to be snakes? I hate snakes! Forget Raiders of the Lost Arc. Forget Snakes on a Plane. Former BBC sports reporter David Icke believes that the person sitting next to you might be a flesh-eating, shape-shifting extraterrestrial reptilian humanoid, who wants to take over the human race. He believes that members of this reptilian secret society include Queen Elizabeth, George W. Bush, Henry Kissinger, Bill and Hillary Clinton and Bob Hope.
4. Chemtrails
Look up in the sky! It's a bird. It's a plane. It's a chemtrail! The sight of a water vapor trail in the exhaust of a jet instills terror in the hearts and minds of conspiracy theorists. These folks are convinced that the contrails, or condensation trails, emitted by jets are actually contain chemicals that control our minds, climate and health, and turn us into blathering idiots. Randall Martin, an atmospheric scientist at Dalhousie University notes that the cost of adding dangerous chemicals to an airplane would wipe out all of the airline's profit. Furthermore, the ability to spray chemicals would require massive, let alone costly adjustments to the plane's infrastructure.
5. Malaysia Airline Flight 370
The disappearance of Malaysia Airline Flight 370 is a conspiracy theorist's dream. A Reddit user writes:
"Flight 370 disappears on 3/7 while reportedly traveling 3,700 km. Flight 370 flew at an altitude of 37,000 feet when it was last reported using flight tracking software. Luigi Maraldi, age 37, was one of the individuals whose passport was stolen. Malaysia Airlines is one of Asia's largest, flying nearly 37,000 passengers daily. As of today, we are beginning the 37th month since the Fukushima tragedy, which is located on the 37th degree and initially caused 37 injuries at the plant."
Other theories include alien abduction and the creation of a new Bermuda Triangle.
6. Denver International Airport
Type "DIA Conspiracy" into a YouTube search panel, and over 80,000 videos appear, each with tens of thousands of views. Some people believe that  an underground secret government unit that is housed under the airport. Others report alien structures, and a variety of psychological warfare testing labs.  A strange and disturbing mural on the wall has inspired the belief that the airport is the future home of the New World Order.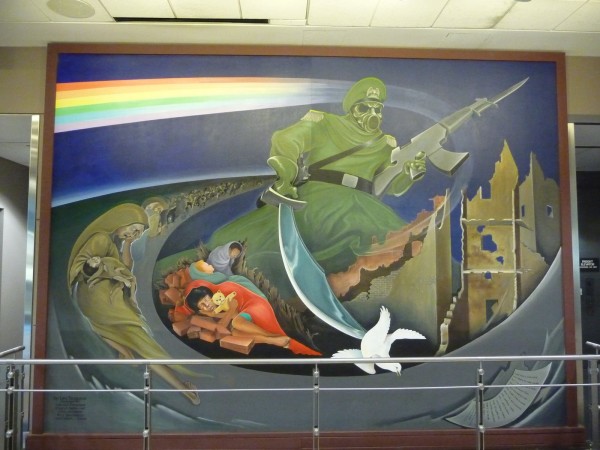 7. Electronic Banking
Beware your evil ATM card. Conspiracy theorists believe that a secret group created them so that they will one day dominate the world. The group will eventually cause a worldwide electronic blackout, which will obliterate everyone's bank account information, thereby creating chaos and panic.
8. Moon Landing
Conspiracy theorists say that the moon landing of July 20, 1969, was a NASA-orchestrated hoax, and argue that Neil Armstrong and Buzz Aldrin walked on a man-made soundstage. Proponents of this theory insist that at the time, the  US lacked the technology to pull off such a feat.
9. The Earth is Flat
Sorry Mr. Columbus. In 1956, Samuel Shelton founded a society that subscribed to a theory that the earth is  flat. Basing his beliefs on his supposed common sense and personal observation, he labeled any evidence to the contrary, including photos taken by satellites, as "dogmatic" and fake. The Flat Earth Society still exists. Disagree with them, and you're part of the conspiracy involved in hiding the truth about the shape of the earth.
10. Beyonce and the Illuminati
Apparently, her performances are filled with Illuminati symbolism.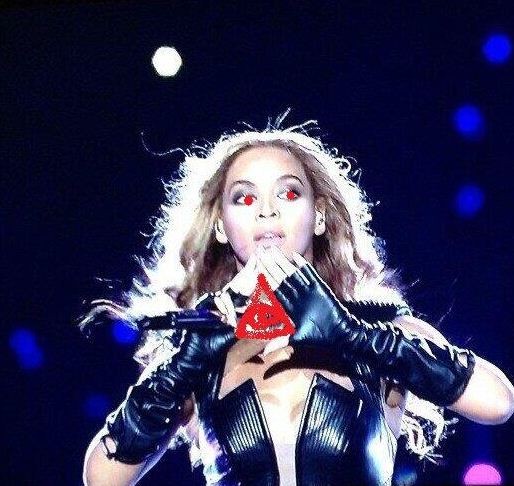 Suggested Read on this Topic:
[easyazon_block add_to_cart="default" align="center" asin="0786719680″ cloaking="default" layout="top" localization="default" locale="US" nofollow="default" new_window="default" tag="totesome04-20″]