The WordPress community started in 2001. It has become one of the most popular software systems used to make blogs. The software uses PHP and MySQL. It is Open Source. There is no license fee to use it. What started as an elegant solution for blogging has now been extended by thousands of widgets and plug-ins to make any type of website. There are lots of WordPress themes available. These are the ten best of the newest ones and why they are exceptional.
Best Premium WordPress Theme
Darkcorp
The layout for this theme offers three column areas and plenty of space for content. This premium WordPress theme works well with Woocommerce and BuddyPress. It uses the fonts offered for free by Google Web Fonts, so there are over six hundred different fonts to choose from. This allows customization of the typestyle to create unique blogs and websites.
Best SEO WordPress Theme
Rastolinos
This theme is responsive so it displays at the correct screen size for any device. It is SEO friendly and works with both HTML5 and the schema.org protocols. It offers multiple layouts, and flexible footers or side-bars. There is a free version available for download and a modestly priced paid version, which includes support.
Best Responsive WordPress Theme
This is a great responsive theme, which means it displays well on any type of device. Designers and bloggers like it because of its ease of use and many features. It has a customizable features area, a flex slider for featured items, customization of import or export settings, uploading of logos, and a vibe panel which is optional. This theme is recommended on many of the best WordPress theme sites.
Best Simple WordPress Theme
Yamith
For a minimalistic look, this theme keeps it simple. Just add a logo or favicon. Then add categories and choose a featured one. It works with links to social networks and advertisements. The colors are light and the footer is dark. It supports all the free Google fonts and by using JQuery the images can fade in and out. There is an extra page for customization purposes.
Best Magazine WordPress Theme

Appliance
This a favorite free WordPress magazine theme because posts display in panels instead of lists. This is very eye-catching. It operates with minimal code, so each webpage loads quickly. It works well for magazine style websites, which want to use a featured image with each article.
Best Free WordPress Blog Theme
This theme is perfect for blogs wanting a contemporary look. It has many features including, upload of custom logos or favicons, color variations, layout options of content/side-bar or side-bar/content, works with transitions in CSS, and integrates with FontAwesome to provide many choices of fonts.
Best Free WordPress Theme for Business
This responsive theme works wells for small businesses because of the many features. Colors are unlimited. Page layouts are either wide or paneled. There are places for up to fourteen widgets. It is translation capable to work in multiple language. It works with WordPress Customizer. It has social networking built-in, and icons based on fonts. The galleries and the posting formats display in many styles.
Best Portfolio WordPress Theme

Caja
A great use for this theme is to make a portfolio to show creative work. It handles sets of collections very elegantly using free plug-ins. This WordPress theme is a bit complex to get it to work properly, because of the need to know how to integrate the plug-ins. It is best for intermediate users who know how to work with modifications to WordPress files.
Best Multipurpose WordPress Theme
Dazzling
This theme offers superb customization. Variations in colors have no limits. There are many places for widgets. It is fully responsive, making it perfect for mobile devices. This is also the best WordPress theme generator from making blogs, portfolios, marketing pages, and business websites.
Best WordPress Theme for Artists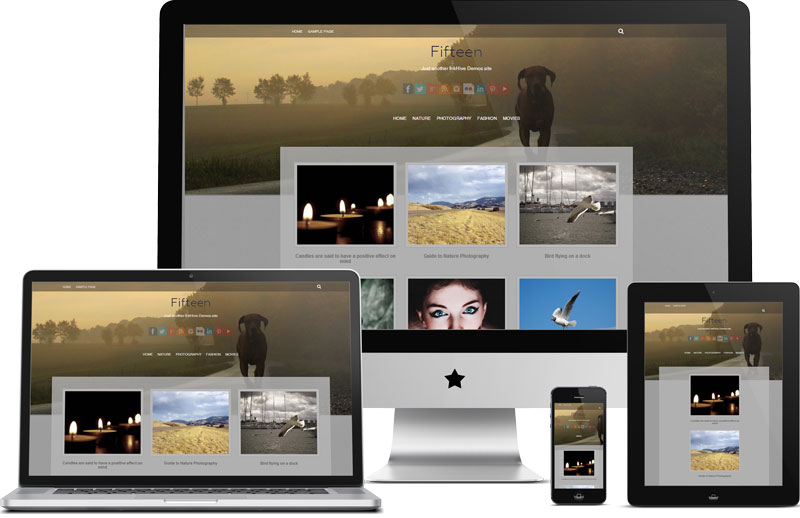 Fifteen
Artists appreciate the aesthetic appearance of this contemporary theme. It supports HTML5, works with CSS3 and Bootstrap making it completely responsive. All of the artist's portfolio displays in a very beautiful way shown in three columns combined with a panel layout. It features images on a full width webpage. There is lots of room to include widgets and it works with Cool Animation.
WordPress themes continue to amaze. Millions of people worldwide use them for every kind of website imaginable. We hope you enjoyed the best ones we found.
Suggested Read on this Topic: